If you want clients to find you online, you need an SEO strategy.
SEO stands for "search engine optimization." Search engine optimization is a collection of techniques that help your practice appear when a potential client searches for a therapist. If you've ever Googled "therapist near me" and wondered how to get your practice to appear, SEO is the solution.
SEO can seem intimidating, but you don't need to worry.
The basics of SEO are pretty straightforward, even for folks who aren't tech savvy. You want your website and online presence to be technically optimized so that it's appealing to Google's algorithm. And you want the written content on your website to be helpful, authoritative, and easy to read. You can understand these concepts more in depth with my SEO guide for therapists.
Finding SEO Success
Unfortunately, it's pretty difficult to move beyond the basics. Figuring out what exactly will make Google happy is not intuitive, and teaching yourself how to beat the competition with SEO can feel like starting grad school – again.
What's more, most therapists didn't open a practice so they could learn how to tweak meta tags or upload XML sitemaps. All that time you spending working on your SEO is time taken away from meeting with clients, sharpening your therapy skills, or your (much-needed!) self-care.
But trying to hire someone to help can be a huge gamble. Most SEO consultants don't understand the world of therapy. That means they might try to reach clients outside your area of competence, write content for your website that contains clinically inaccurate information, or suggest strategies that go against your code of ethics (like asking clients for testimonials).
Your Own Personal A-Team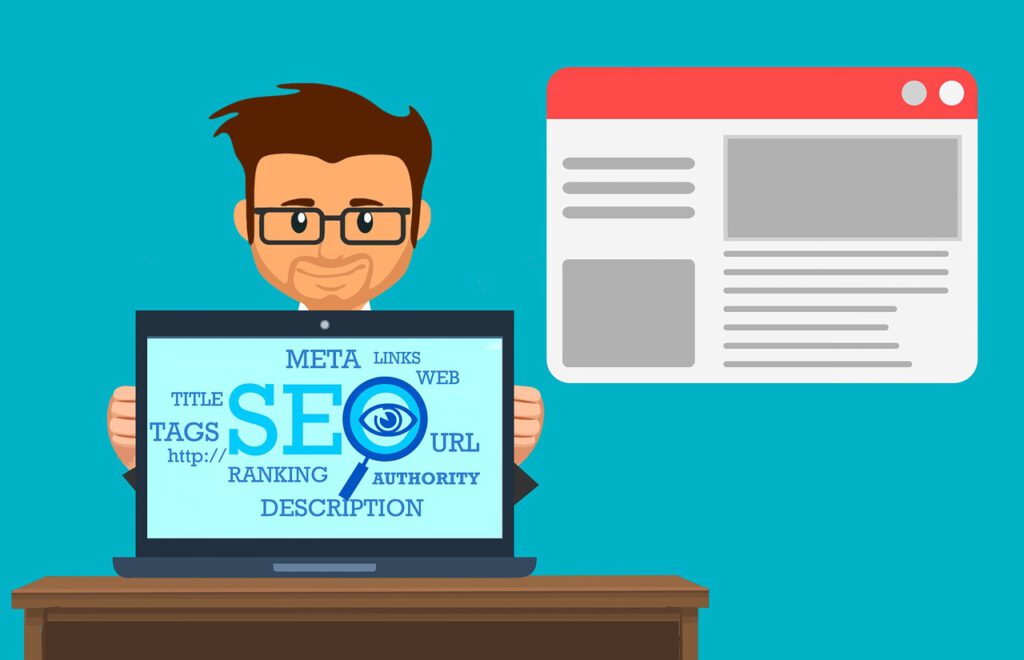 I know all of this because I specialize in helping therapists grow their practices online. Since launching Marketing For Therapists in 2015, I've seen countless therapists capsize on the rocky shoals of SEO.
And I care about this because I'm a therapist myself. I know how many hurting people need the services you provide, and I want to clear away the obstacles preventing new clients from finding you.
That's why I recruited an absolutely stellar team to help you achieve SEO success. I've brought on the best psychotherapy content writer in the business (the deeply talented and profoundly insightful Nita Diaz) and a rock-solid expert in the technical side of SEO (the highly skilled and effortlessly charming Mark Lipowski). Think of us like your own personal SEO A-Team.
Free SEO Consultation
A good therapist adjusts their approach to fit the client – there's no such thing as one-size-fits-all therapy. The same thing is true for SEO. Your therapy practice is unique, as is your SEO competition, your local keywords, the needs of your website, etc.
Because of this, we're proud to offer a free half hour SEO consultation for all new clients. Prior to the consultation, we'll do an extensive review of your website and the local competitive landscape. Then we'll show you the data we collected, explain our findings, and answer any questions that you have. Once you have a clear understanding of your SEO situation, we'll work with you to develop some SEO strategies that fit your marketing goals and your budget, and help you determine which of our SEO packages will fit you best.
If that sounds good to you, feel free to jump down to our contact form and sign up for your free consultation. If you'd like to learn more about our services first, read on!
SEO Packages
We pride ourselves on offering simple, clear pricing, so our SEO packages are easy to understand. We offer two kinds of service packages – a One-Time Optimization, and a Monthly Optimization Plan.
As you might guess, the One-Time Optimization covers all of the one-time tasks you need to lay a foundation for SEO success. And then the Monthly Optimization Plan provides you with sustained progress towards your SEO goals over time.
With each service, we have different pricing tiers depending on what you need. You'll get a customized proposal detailing exactly what we'll do for your specific site before signing up, so you can be confident in what you receive.
One-Time Optimization pricing
Optimization – $1500
Optimization Plus – $2500
Monthly Optimization Plan pricing
SEO – $500/mo
SEO Plus – $950/mo
SEO Ultra – $1450/mo
We never lock you into a long-term contract. Our monthly packages require a 90-day initial commitment, since SEO takes a few months before it shows results. But after that point, you can cancel anytime with a 30-day notice.
We also don't charge hidden fees. We have a single $250 setup fee in your first month, but otherwise you're just responsible for your standard monthly cost. We also offer a 10% discount if you prepay for three months or more in advance.
Not sure what package is right for you? Sign up for a free consultation, and we'll give you all the information you need to make a good decision for your practice.
Content Writing Packages
When it comes to SEO, content is absolutely critical. Your service page, your team's about page, your blog – all of these play a huge role in determining whether or not Google will rank you.
While some therapists have found success writing their own content, most find the best results by delegating their content writing to the pros. To learn more about our content writing offerings, click here; to learn about our overall SEO packages, read on!
SEO Techniques We Use
Overview
We're big believers in transparency at Marketing For Therapists, so we don't want to say "Just trust us" with your SEO. Instead, we want to explain the specific techniques and strategies we'll be using to help you achieve SEO success.
That's why we've created this section, which will walk you through many of the arrows in our SEO quiver. This list is not exhaustive, but it should give you an idea of our approach.
Of course, the specific strategies that we use for your practice will vary based on your practice's unique needs. During your free consultation, we'll tell you exactly what we're suggesting for your practice and provide a clear explanation of the reasoning behind our recommendations
Our Techniques & Strategies
Google My Business
Google Maps visibility and traffic is controlled through Google My Business, so attention is paid to Google My Business. We also have you respond to your reviews in Google My Business and provide other advice on specific success strategies for this off-page SEO profile.
To make sure your visibility is optimized fully on Google My Business, we will fully create a new profile or optimize an existing one for your organization. If you have multiple physical addresses that you are participating with, multiple profiles will be created or optimized for each physical location. (Please note: A P.O. Box does not qualify as a physical location per Google.)
We also have other specific strategies that we discuss regarding Google My Business. These are very important to know about so you can take action on them and boost your visibility even more.
Keyword Analysis & Research
Here, we look into three key things:
What keywords are generating the bulk of your traffic – your current wins
What keywords would you like to rank for but aren't, and is it realistic to rank for them? What keywords are under-represented and could be targeted as 'easy wins'?
The majority of keywords will fall into one of these categories. We will analyze what keywords you rank for, how you rank, the ones that are not worth focusing on due to competition, volume, or value, as well as a list of 'low hanging fruit' keywords that should be our first focus when targeting new keywords.
Meta Titles & Title Descriptions
With the keyword research, we will implement keyword specific meta titles and meta descriptions to the appropriate pages as they relate to the content. These must be unique to each page and unduplicated. They must also follow the number of character limitations so that the title and description can be read on cell phones and tablets when smaller screens are available.
Technical Analysis
The technical performance of a website plays a huge factor in SEO. Is your website mobile friendly? Is the SSL set up correctly? Are there missing pages or re-direct issues? Is your website page speed load time reasonable – ideally below 2 seconds?
What is your Core Web Vitals Score? How many poorly performing pages do you have? Do you have pages that need to be improved and are holding back your website performance? We can show you the answers to all of these questions and more and how they correlate to an increased number of clients.
These are just a few of the many line items we examine when analyzing your site, and these are most often overlooked by non-technical business owners. We'll identify high importance areas of improvement and make sure you're made aware of it. These can be some of the most complex fixes, but are often the quickest if you know what to do.
Is schema setup? If not, we will set it up on your website for you. Schema is the vocabulary of search engines and helps search engines to show structured data results in a consistent manner for items such as Frequently Asked Questions (FAQ,) reviews, business type, address, among others.
We also notify you about improvement areas that are lower in priority, but still need attention and revision.
Google Analytics
In order to see the results your website is driving, you need to have a tracking software such as Google Analytics,. If you do not have this applied, we will set it up for you (it's free!)
When set up properly, Google Analytics can show you information on your website traffic, the number of form submissions received from your website, and even the number of phone calls received at your business (if your phone number is compatible with Google Analytics.) This allows you to make data-driven decisions about your marketing, and gives us an invaluable tool for planning your SEO strategy.
Google Search Console
We will also install Google Search Console for you so that the organic results of the website updates that have been made on your website can be seen.
Should you ever have a critical Google error here, such as malware or a Google warning such as a virus, you can receive a message in your Google Search Console and/or in your email from Google Search Console if you are assigned as a user in the software. This allows you to respond immediately to any issue and protect yourself against threats to your business.
Content Quality Analysis
Original, quality content that is both aligned to your keywords while catering to your users' intent and needs and your marketing funnels is central to your content strategy and SEO and marketing success.
We will review your on-page content, examine where it is and isn't meeting your keyword goals, ensure it's following best on-page SEO practices, aligns with your users' needs and your marketing goals, and provide a report with suggestions for improvements and strategy going forward.
Link Analysis
A high-quality link profile is one of the more challenging ranking factors to address, but it's also one of the most important.
We'll do a thorough examination of your backlinks, as well as your internal links, to determine what exists, their quality and value, potentially correlate them to existing traffic if the data is available. If any of the links are toxic, we will make recommendations on which links need to be disavowed. We will also make suggestions on existing content where a link-building campaign would be beneficial.
Competitor Analysis
Understanding who your competitors are, what keywords they are ranking for, and their overall content and keyword strategy can make or break your future SEO efforts.
You'll need this information to identify what keywords you can't compete on – and shouldn't waste time and effort on – as well as gaps in the keyword landscape that provide opportunities for easy wins.
Local SEO Audit
Local SEO is its own unique discipline and practice, and it's important we address it specifically on its own.
We'll review your current citations for completeness and consistency, determine which citations you have in place, which you're missing (for most clients it's almost all of them!), evaluate your on-site SEO for local ranking factors, and many other local-SEO- specific items to give you the best picture of where you stand and what needs to be done to improve your local SEO so you can start ranking higher for your clients near you.
Directory Submissions
We will ensure every one of your business location's information is current with us, and then we will work to establish your business profile on upwards of 80 digital directories. This is one of the best ways to establish local SEO authority, but has to be done precisely and consistently.
You will receive a report of all your citation submissions once they have been completed. Most are live and online within 72 hours, but please be aware that some require you, the business owner, to verify via phone, and others simply take longer to go live. You'll be kept in the loop the entire time!
Technical SEO
Every site faces some technical issues. Whether it's performance issues or mobile responsiveness, we'll identify anything that's hurting yours. Where feasible and reasonable we'll fix any issues on the spot, and where that isn't possible we'll give you a detailed plan of how to address the issue and the severity of its impact.
On-Page SEO/On-Site Local SEO
We will work with you to identify keywords and ensure that all your on-site SEO (titles, descriptions, copy, etc.) aligns with them. We will also make sure that on-site local SEO (name, address, phone, and business schema) are all set up properly. This doesn't just help your SEO, it helps your user experience too!
Get Your Free Consultation
Ready for your free consultation? Just reach out via the contact form below. We'll be in touch within a few days and will schedule your consultation as soon as we can.