If you want clients to find you online, you need an SEO strategy.
SEO stands for "search engine optimization." Search engine optimization is a collection of techniques that help your practice appear when a potential client searches for a therapist. If you've ever Googled "therapist near me" and wondered how to get your practice to appear, SEO is the solution.
SEO can seem intimidating, but you don't need to worry.
The basics of SEO are pretty straightforward, even for folks who aren't tech savvy. You want your website and online presence to be technically optimized so that it's appealing to Google's algorithm. And you want the written content on your website to be helpful, authoritative, and easy to read. You can understand these concepts more in depth with my SEO guide for therapists.
Finding SEO Success
Unfortunately, it's pretty difficult to move beyond the basics. Figuring out what exactly will make Google happy is not intuitive, and teaching yourself how to beat the competition with SEO can feel like starting grad school – again.
What's more, most therapists didn't open a practice so they could learn how to tweak meta tags or upload XML sitemaps. All that time you spending working on your SEO is time taken away from meeting with clients, sharpening your therapy skills, or your (much-needed!) self-care.
But trying to hire someone to help can be a huge gamble. Most SEO consultants don't understand the world of therapy. That means they might try to reach clients outside your area of competence, write content for your website that contains clinically inaccurate information, or suggest strategies that go against your code of ethics (like asking clients for testimonials).
Your Own Personal A-Team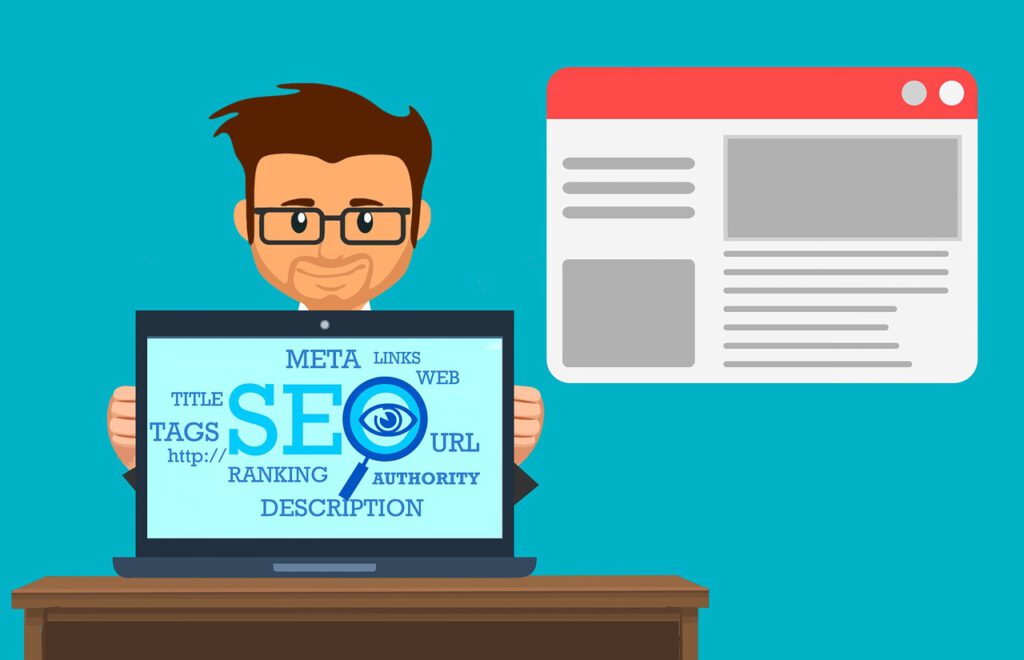 I know all of this because I specialize in helping therapists grow their practices online. Since launching Marketing For Therapists in 2015, I've seen countless therapists capsize on the rocky shoals of SEO.
And I care about this because I'm a therapist myself. I know how many hurting people need the services you provide, and I want to clear away the obstacles preventing new clients from finding you.
That's why I recruited an absolutely stellar team to help you achieve SEO success. I've brought on the best psychotherapy content writer in the business (the deeply talented and profoundly insightful Dr. Kyler Shumway) and a rock-solid expert in the technical side of SEO (the highly skilled and effortlessly charming Connor Whitman). Think of us like your own personal SEO A-Team.
Here's what we do for you, and how you can get started.
Content Writing
When it comes to SEO, content is absolutely critical. While some therapists have found success writing their own content, most find the best results by delegating their content writing to the pros. To learn more about our content writing offerings, click here; to learn about our overall SEO packages, read on!
SEO Packages
We offer three different SEO packages:
Deep Dive SEO Audit & Site Evaluation – $1250. Gives you a $500 credit you can apply to any other SEO service.
Local SEO Launchpad – $1000 setup fee, then $1,000 per quarter. Setup fee is waived if you pay for the full year up front.
SEO White Glove Service – Priced to order
Almost all clients will start with our deep dive audit. Not only do you get a LOT for your $1250, but you get a $500 credit you can apply to any of our larger packages. Read on for full details on all packages, or jump down to our contact form and get in touch if you are already interested!
Deep Dive SEO Audit
Overview
Understanding where your site ranks organically on search engines is important, and you probably already have a good general idea of your current SERP (Search Engine Results Page) standings.
But if you want to grow your business, understanding exactly why your site ranks where it does is infinitely more valuable!
Marketing for Therapists' Deep SEO Audit and Site Evaluation service will take a precise, detailed, and multifaceted look at your digital SEO presence and current standings in order to help you understand "why you rank how you rank". We will look at your technical SEO, key- words, content, user experience, link profile, local SEO health, and even analyze your competitors' standings and strategies to identify as many opportunities for you as possible.
At the end of our audit, you will receive a complete and comprehensive report detailing your current SEO strengths, a punchlist of problem & action items that need to be addressed, a list of SEO opportunities, as well as general marketing strategy recommendations and next- steps for improving SEO for your therapy practice.
As any full-featured SEO package from MFT will include a deep-dive audit upon kickoff, you may apply the value of the Deep SEO Audit & Site Evaluation to any other SEO package with- in 90 days of completion of the audit.
Detailed Description
Keyword Analysis
Here, we look into three key things:
What keywords are generating the bulk of your traffic – your current wins
What keywords would you like to rank for but aren't, and is it realistic to rank for them? What keywords are under-represented and could be targeted as 'easy wins'?
The majority of keywords will fall into one of these categories. We will analyze what keywords you rank for, how you rank, the ones that are not worth focusing on due to competition, volume, or value, as well as a list of 'low hanging fruit' keywords that should be our first focus when targeting new keywords.
Technical Analysis
The technical performance of a website plays a huge factor in SEO. Is your website mobile friendly? Is the SSL set up correctly? Are there missing pages or re-direct issues? Is your site load time reasonable – ideally below 2 seconds?
These are just a few of the many line items we examine when auditing your site, and are some of the most often overlooked by non- technical business owners. We'll identify anything that needs to be fixed and make sure you're made aware of it. These can be some of the most complex fixes, but are often the quickest if you know what to do.
Content Quality Analysis
Original, quality content that is both aligned to your keywords while catering to your users' intent and needs and your marketing funnels is central to your content strategy and SEO and marketing success.
We will review your on-page content, examine where it is and isn't meeting your keyword goals, ensure it's following best on-page SEO practices, aligns with your users' needs and your marketing goals, and provide a report with suggestions for improvements and strategy going forward.
Link Analysis
A high-quality link profile is one of the more challenging ranking factors to address, but it's also one of the most important.
We'll do a thorough examination of your backlinks, as well as your internal links, to determine what exists, their quality and value, potentially correlate them to existing traffic if the data is available, and determine if any exist that need to be disavowed. We will also make suggestions on existing content where a link-building campaign would be beneficial.
Competitor Analysis
Understanding who your competitors are, what keywords they are ranking for, and their overall content and keyword strategy can make or break your future SEO efforts.
You'll need this information to identify what keywords you can't compete on – and shouldn't waste time and effort on – as well as gaps in the keyword landscape that provide opportunities for easy wins.
Local SEO Audit
Local SEO is its own unique discipline and practice, and it's important we address it specifically on its own.
We'll review your current citations for completeness and consistency, determine which citations you have in place, which you're missing (for most clients it's almost all of them!), evaluate your on-site SEO for local ranking factors, and many other local-SEO- specific items to give you the best picture of where you stand and what needs to be done to improve your local SEO so you can start ranking higher for your clients near you.
Pricing
Our Deep Dive Audit & Site Evaluation is $1,250. If you sign up for our Launchpad or White Glove program within 90 days of completion of the audit, you can apply a $500 credit to your future service.
Interested in the Deep Dive Package? Jump down to our contact form and get in touch!
Local SEO Launchpad
Package Overview
Local SEO is one of the most important marketing items for small and medium businesses, and it's one that is often overlooked entirely. Successful execution of Local SEO includes on- site Local SEO, optimization of your technical SEO, and the most time-consuming – but also the most important – citation building. We handle all of this for you!
We also work with you to identify your target keywords and ensure your on-page SEO is aligned with them, an added bonus of which is that you want to do this for general SEO any- ways! We'll also fix up any broken links, 404 errors, or other on-site SEO problems you have as well.
Then we'll begin the long process of setting up your business citations. While you probably already have a Google MyBusiness page (which we'll make sure is up to snuff!), it's not enough in the eyes of search engines, so we'll make sure you're set up across as many directories as possible, and ensure every single record is identical (yes, even the punctuation matters).
Once all this is completed, you'll receive an updated report similar to the initial audit report you receive with your updated standings, and for the following year you'll get monthly up- dates on how your local SEO performance is improving!
Detailed Package Description
Citation Submissions
We will ensure every one of your business location's information is current with us, and then we will work to establish your business profile on upwards of 100 digital directories. This is one of the best ways to establish local SEO authority, but has to be done precisely and consistently.
You will receive a report of all your citation submissions once they have been completed. Most are live and online within 14 days, please be aware that some require you, the business owner, to verify via phone, and others simply take longer to go live. You'll be kept in the loop the entire time!
Technical SEO
Every site faces some technical issues. Whether it's performance issues or mobile responsiveness, we'll identify anything that's hurting yours. Where feasible and reasonable we'll fix any issues on the spot, and where that isn't possible we'll give you a detailed plan of how to address the issue and the severity of its impact.
On-Page SEO/On-Site Local SEO
We will work with you to identify keywords and ensure that all your on-site SEO (titles, descriptions, copy, etc.) aligns with them. We will also make sure that on-site local SEO (name, address, phone, and business schema) are all set up properly. This doesn't just help your SEO, it helps your user experience too!
Pricing
Our Local SEO Launchpad has a $1,000 setup fee, and then costs $1,000 per quarter for the first year. If you pay the first year up front, the setup fee is waived. (So in effect, it's either $5,000 or $4,000 for your first year, and then $4,000 for all future years.) There is no ongoing commitment, although generally you'll need to stick with it for about half a year before you see significant results.
Interested in the SEO Launchpad Package? Jump down to our contact form and get in touch!
SEO White Glove Service
If we do our job right, you might want to take your SEO to the next level, and that's where our SEO White Glove offering comes in! We can't offer an off the shelf solution here, because while almost everyone does need an in-depth audit and a Local SEO Launchpad, work that goes beyond this has to be tailored for each individual client and their needs and goals.
Whether you want to consider content syndication, want to establish foundational backlinks, or simply improve your on-site content marketing, we will work with you to learn your business goals, and translate that into actionable marketing and SEO work.
You'll receive a custom SEO White Glove plan to be executed over the course of a quarter, tailored just to your needs.
Get Started
If you have questions, or you're ready to sign up, use the contact form below! You will receive an email reply within 2-3 business days.