I'm a big fan of WordPress, but it's not for everyone.
If you're looking for other options to build your therapy site, this page is for you.
Weebly
Weebly is a website building software, like WordPress. Unlike WordPress, you don't need to worry about hosting or any of the technical stuff — Weebly hosts your site on their own servers and they handle all the technical stuff for you.
Weebly is super easy to use, and it's not hard to make good-looking websites. It can't do as many things as WordPress, but what it does, it does well. My sister built her website with Weebly, and it looks great.
Compared to WordPress, Weebly is easy to learn. It  offers fewer features, but the features it does offer are quality. You can't go wrong with either WordPress or Weebly, but Weebly is probably your best bet if you just want a simple but high-quality website.
The best news? It only costs $8 per month, and you can start for free to test it out. Give it a try!
Strikingly
Strikingly is a one-page website builder. People scroll down until they reach the end, no clicking required. You can see an example here.
Strikingly's websites are beautiful, and it's very easy to set them up. They're also designed to look great on mobile, which is nice. Best of all, Strikingly's website are, well, striking. They definitely stand out compared to other therapist websites, so if you want a look that will get people's attention, Strikingly is a good choice.
The downside is that Strikingly's websites work best when they're short. If you're planning on having a blog, or if you want to have tons of content on your website, Strikingly is probably not a good option for you. However, if you want a nice simple website, where you have your basic information, the conditions you treat, and a contact form, Strikingly would work really well. Strikingly is even better if you just want a place to host your online CV.
Strikingly costs $12 per month, or $20 per month if you get a package with extra features. You can drop that cost to $16 and $8 per month if you pay for a year at a time, and $14 and $7 if you pay for two years at a time. I recommend paying for a year up front, since that gives pretty big savings. They also have a free plan, but you can't use your own domain name, so I recommend you only use the free plan to test Strikingly and upgrade when you're ready to attract visitors.
Click here to try Strikingly!
BrighterVision.com
Brighter Vision makes custom websites for therapists. You start by picking one of their templates, which their team of designers then customizes for you to make sure that your website looks and feels exactly how you want it. They handle all of the technical stuff, and if you ever need help with their website, they help you out free of charge. Plus, because they work exclusively with therapists, you're guaranteed a support team that understands your business.
The bottom line: Brighter Vision is a pretty worry-free approach to getting a therapy website. You don't have to worry about any technical problems, you know your website will look pretty good, and you have a support staff ready to help if you ever have questions.
The main downside is the cost — Brighter Vision is $59 per month, which is considerably more expensive than the other options I discuss. But honestly, a bad website will end up costing you a lot of money too in lost clients. My recommendation? If you feel confident that you can make a good website if you do it yourself, then go with one of the cheaper options. But if you don't feel confident in your web design skills (or if you've tried and been dissatisfied with the results), give Brighter Vision a try.
Oh, and some good news: You can get your first month free with Brighter Vision if you use the coupon code WENDLER (my last name!) This also gets me a little affiliate bonus, so if you want to say thank-you to me for using this site (and score a free month) the coupon is a great option 😉
Click here to try Brighter Vision!
Hire a Pro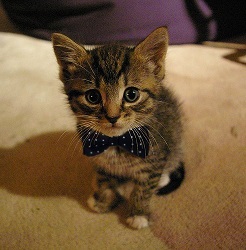 (I couldn't think of an appropriate photo, so I used a kitten!)
If you want the highest-quality website, you'll probably want to hire a professional.
Unfortunately, professional web developers are expensive. A good developer will probably charge between $1000 and $4000 to design your website. It's possible to find good developers who are cheaper than that, but like most things in life you usually get what you pay for.
In order to find professional developers, I recommend two options. You can ask other therapists for recommendations. Or, you can go to the For Hire forum on Reddit. Reddit's for hire forum is frequented by lots of skilled web developers so if you post a help wanted ad, you should get lots of replies that you can sift through.
When you're considering which developer is right for you, start by looking at their portfolio. A good developer should have several websites that they've designed that you can peruse. Pay attention not just to the general look and feel of the website, but also the attention to detail. If there are sloppy mistakes in the websites in their portfolio, cross them off the list.
You should also feel a good sense of interpersonal connection with your developer. Of course, you don't need to be friends with your developer — but you should have a sense that you're communicating well, that you're working together effectively, and that you're on the same side. Think of it like a "therapeutic relationship" but for your website.
Finally, you should be able to agree on what happens after the developer has built your website. Will they continue to host it and manage it (and if so, how much will that cost?) If you don't like their design, will they change it for you? Will they teach you how to make basic updates and changes to your site? There's no one right answer to these questions, but it's important for you to discuss them with your developer and come to answers that both of you feel good about.
Oh, one more thing — while I'm not primarily a web developer, I can help set you up with a quality basic WordPress website. If you're interested, drop me a line and let's talk!